Looking for Algebra Math Tutor near or in White Plains NY, look no further our company can help you find one!
Our algebra tutors in White Plains NY can help you get better in algebra with effective algebra study guides software which you may find useful in your math studies You've been having a heck of a time keeping up in algebra class, and still you're barely passing. If the old saying, "Through suffering comes wisdom" is true, then you should be really wise—wise enough to ask for help from an algebra tutor in White Plains, NY before your grades are past repair.
Tutoring Services, LLC can help. We provide qualified matehmatics tutors for White Plains NY and nearby area residents, at reasonable prices. With the help of one of our algebra tutors in White Plains, you'll do much better than barely getting by in math class. You could even excel! Best of all, your algebra tutor can reinforce the classroom instruction you're already receiving so that you actually learn the math concepts and skills you need to succeed in algebra class and other math courses.
Best Algebra Math Tutoring for students in White Plains, NY, New Rochelle, Larchmont, Yonkers, Mount Vernon, Harrison, Rye, White Plains, Port Chester for College High/Middle School, College

We invite, middle school, elementary, and high school/college students to prepare for algebra with our professional mathematics tutors, who may either be subject matter experts who also happen to go to college or certified teachers, or other educators with relevant mathematics experience. Listed below are the mathematical subjects/topics for which we help students to prepare for. If you do not see your subject, no worries just contact us over the phone and we will find you tutor in the subject of your choice. Areas we service, include Yonkers, White Plains, Port Chester, Harrison, Rye, Larchomont, Mamaroneck and many other cities and towns of Westchester County.
Here are some of the Math Topics our tutors can teach students in New Rochelle NY
Affordable Algebra Study Guides | Group Local Tutoring or Online or In person in | Yonkers, Mount Vernon, White Plains, Tarrytown, Elmsford, Harrison and other towns

Have you considered getting tutored in group? Group prices are much more affordable then one on one math algebra private tutoring. We have educators who can offer group teaching and one on one algebra teaching services in math subject. However, private local 1 on 1 math tutoring face to face in White Plains NY is better than self-study, and it's more effective than a study group too. Our mathematics Algebra experts servicing White Plains NY and Westchester County area know this subject well and have the experience teaching it others. Take the first step and contact us to help you find reliable mathematics tutor for your son or daughter.
Best of all, your math tutoring sessions will focus on your learning needs, not those of an entire classroom, and you'll be able to learn at the pace that's right for you. Whether you're struggling in your school class or trying to review challenging exams like the PSAT, the SAT, the GRE, or the Praxis I math test that require algebra skills, you'll better meet the challenge by contacting us and help you hand pick your home or online or group algebra tutor in any of the following cities of Scarsdale, New Rochelle, Rye, Purchase NY. We also offer online algebra tutoring for New Rochelle parents on the budget who can not afford local home tutor in White Plains NY. To find out more about our online mathematics and home algebra tutoring options and information for Westchester County NY parents click this image link below.
This option is great for parents who can't spend money on local home tutor in White Plains NY.
Elementary Level Algebra Math for Home School kids Great method to learn math interactively!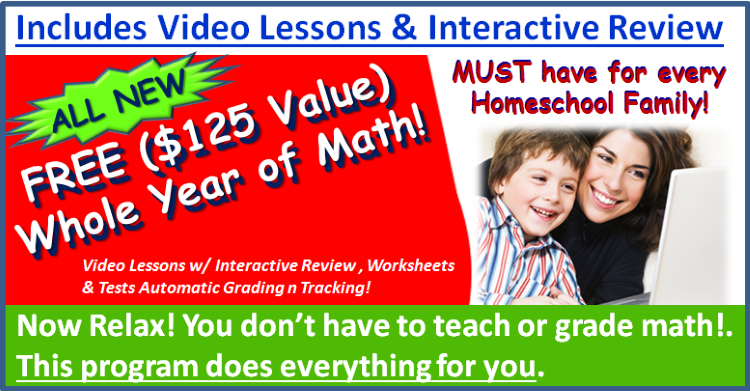 Don't have money for a local algebra tutor, can't afford to have one of the high quality local home tutors come out directly to White Plains NY to teach your son or daughter algebra? Or perhaps can afford but also would like additional supplementary math help for your son or daughter. Need help in math? Here is what we recommend to Westchester County parents for their home school kids in algera, or any kids looking for algebra help. This program is very cool and very affordable that beats local and one on one tutoring prices by far! Hence if budget is an issue and you simply want to have your kids jump onto a computer and study math in a nice interactive way then this is the program for you. Note for more reasons why this algebra math interactive program is great for Westchester County Parents visit this link.
How to decide if Algebra Tutoring Services company is legit

If company is reliable it should be able to help parents answer the following questions, if they can asnwer them then company is reliable. If they can not provide answers to these questions, then reliability of the company should be questioned.

1. Can I afford a tutor?
2. Can I save money on tutor?
3. What other options are available if I can't afford local algebra tutor in New Rochelle?
4. Can I meet tutor face to face before having tutor arrive to my home live online?
5. Can I pre-view tutor somehow before I meet him face to face?
6. How can tutor provide math tutoring?
7. What tools does tutor have for math tutoring?
8. Can I take pic of math homework problem and show it to tutor? Is there easy way to do it?
9. How can I write math symbols into computer easy naturally as naturally as possible?
10. Who is available in my area?
11. Why is the tutor who available in my area better then another tutor?
12. Is tutor pre-screened by agency for back ground check real time interview, references verification, personality test?
Why knowing algebra matters?

Algebra is such an important subject! It's the prerequisite to upper-level math classes that you must pass if you intend to pursue a career in math-intensive fields like engineering, physics, and pharmacy. Also, basic algebra concepts are tested on most major standardized exams that include a math component, such as the PSAT, the SAT, the GRE, and the Praxis 1. If you're a student who plans to attend college and you struggle with math, it just makes good sense to hire an algebra tutor. With an algebra tutor in White Plains, you'll not only do better in algebra class, but you'll also be better prepared for the future.
What can our Algebra Math Home Tutors do for you?

An algebra tutor in White Plains, NY, can help you complete your algebra homework, review daily notes, review chapters, prep for quizzes and tests, and more. When you don't understand a concept your teacher covers in class, just ask your private instructor. He or she will explain it to you until you really understand. With a private algebra tutor, you can learn at your own speed and ask as many questions as you like. Do you need remediation in basic math skills? An algebra tutor can provide it.

Clearly, if you're struggling with algebra—whether at the middle school, high school, or college level—it's wise to hire an algebra tutor ASAP. Contact our agency today, and let us find an algebra tutor in White Plains for you. To view other math subjects other then algebra feel free to browse through the subject tree on the right hand side of this website. Also feel free to browse our Algebra math tutors and, definitely let us know which tutor you would like to have come out to your home. Note you can always pre-screen your tutor face to face over our whiteboard! Plus it will give you time to check out some of our math tools tools, who knows you or your son may decide to have online tutoring done instea of local! Note we r not here to sell you local home tutor, our primary goal her is to help you chose the right educational solution for your son or daughter based on your budget or other criteria.
If you are confused about any of these Algebra Edu options presented to you, we encourage you to pick up your phone and contact us to discuss your educational needs! Or send us email through This email address is being protected from spambots. You need JavaScript enabled to view it.

We Offer Tutoring Also In Nearby Cities: